2-3 hari ni seperti entry mempromo diri sendiri pula, LOL.
Tak sangka pula saya, di celah2 kesibukan ni sempat lagi saya jadi Mommy Blogger untuk MamaBabyWorld, dan juga yang terbaru ialah Editor di  Yoyooh! (Sebut Yo-Yo-Oh)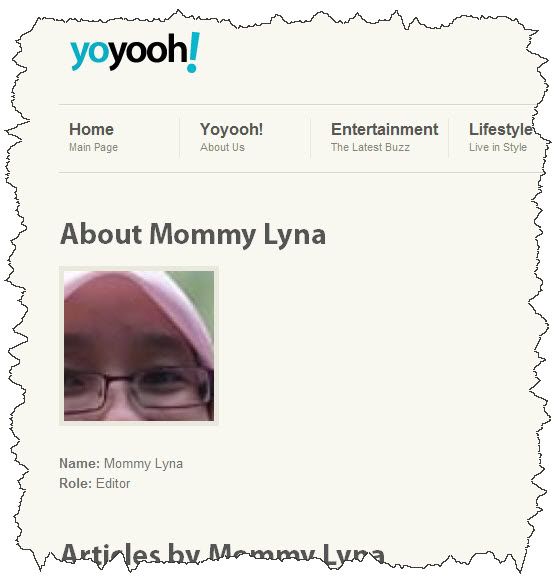 2 tahun lalu blog My Super Kids telah dianugerahkan The Blog Squad Terbaik dalam The Blog Squad Yoyooh! Blog Challenge & Critics.
Trofi pertama dalam pengelibatan sebagai blogger HeHeHe.
Mak menang noks!
Tahun ini bila Yoyooh! mengalami rejuvenasi dan revolusi, my friend Ray telah menjemput saya bersama 15 bloggers hebat lain untuk bersama2 dalam YES (Yoyooh! Editorial Squad). Yang bestnya Mr Ajami Hashim yang pernah saya 'kritik' drama yang ditulis skripnya oleh beliau –Tunjang Saadah– ada sama dalam squad tersebut! *mode excited*
Squad YES ni ada pelbagai lapisan bloggers, saya rasa muda semula bila berada 'di kalangan' mereka 😀 Maklumlah, mak dah nak masuk 3-series (tapi dalam hati ada taman permainan, muda sokmo!). Kekok jugak pada mulanya nak tulis entry kat sini, maklumla dulu saya pernah jadi contributor untuk Mom Bloggers Planet, lepas tu Mama Baby World, kedua2nya untuk tatapan ibu-ibu. Yoyooh! ni untuk pelbagai lapisan, jadi awkward sedikit. Pertama kali mungkin, selepas ini sudah biasa, saya akan jadikan Yoyooh! seperti blog saya sendiri 😀
So kepada anda yang inginkan pembaharuan dalam bloghopping/blogwalking/blogjogging anda, jomlah kita ke laman Yoyooh! yang baru ini lebih kemas, lebih friendly dan pastinya lebih best!
(mungkin saya patut mengaku yang saya seorang blogger yang sedikit tegar)